[ad_1]

Before Xiaomi shook things up with its Mi Smart LED TV range, the smart TV space in India had become quite dry.
The problem? consumers were stuck on its highly competitive price, completely blindsided by the fact that it is just another smart TV offering with a custom Android OS.
Don't get me wrong, their 55-inch variant is stunning, but what I am trying to say is that it is very easy to attract consumers in India, especially if you sell something cheap.
Apart from great picture and sound quality, a smart TV should deliver functionality and features that make it more than just a large display that shows content. Just adding internet connectivity, apps and a browser doesn't cut it.
In our opinion Android TV is a pretty grounded OS for smart TVs, sadly, the only known options in India come from Sony or TCL.
Today Vu Televisions became the latest name to be added to the list. Priced at Rs 36,999 for the 43-inch variant going all the way to Rs 55,999 for the 55-inch model. Here's our quick first impression of the TVs.
Design
The good thing about the new TV range is that all three models (43-inch, 49-inch and 55-inch) are identical in terms of design and hardware, only the size is different. On first glance, they definitely look premium, even if the built-in soundbar seems dated.
The panel has only a thin frame around it with no bezels, which is nice to see. The only thing that we didn't like was the coarse plastic finish of the back panel. True, that it is going to stay hidden, but it feels like cheap plastic.
Also, if you are into super thin TVs, this one won't impress, being marginally thick.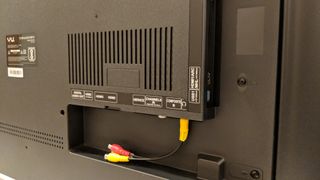 Apart from that, the stand feels firm and all the ports are well placed and easily accessible. Speaking of which, you get two USB ports (USB 3.0 and 2.0), three HDMI ports with ARC support, optical audio out, a 3.5mm headphone jack, an ethernet port and standard RCA ports. Other connectivity options include Bluetooth and dual band Wi-Fi (2.4GHz and 5GHz).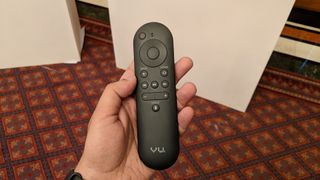 Picture and sound quality
Moving to the display itself, it has a matte finish and the company has used an A+ grade IPS panel. All three models get the same 4K resolution (3840×2160) and the quality felt good for the first few minutes. We tried watching some videos and of course play around with the Android TV interface.
The picture quality for a 4K panel is good, but we weren't fully impressed with the quality as the blacks didn't feel deep enough and colours could have been more punchy. We still need to thoroughly test the panel with various sources, video formats and resolutions, but as an initial impression we liked the panel but don't expect to come near Samsung or Sony's quality.
The soundbar at the bottom features a two box-speaker system rated at 10W each. The company says that it supports Dolby audio as well as DTS TruSurround. The soundbar is definitely loud and should fill up a large hall easily.
We didn't get enough time to test different types of music, but what we can say is that you can use it without hooking up external speakers.
Value for money
For its price, the new Android TV range from Vu sounds good, but it's too early to say if you should invest in one.
We like the fact that these are some of the most affordable Android TVs out there, but that isn't a good enough reason.
Yes, the UI felt very smooth and even the voice commands via the remote, recognising most of our words. But honestly the credit for that should go to Google.
We suggest waiting a bit before you invest in the Android TVs from Vu. As always, watch this space for our detailed tests and reviews of the new Vu TV's.
[ad_2]

Source link
Content Disclaimer 
This Content is Generated from RSS Feeds, if your content is featured and you would like to be removed, please 
Contact Us
With your website address and name of site you wish to be removed from.
Note:
You can control what content is distributed in your RSS Feed by using your Website Editor.
Tech Shop Offers