[ad_1]

Robot vacuum cleaners have gone from something of a novelty to a viable alternative to doing your own floor cleaning. While iRobot's Roomba may be the most recognizable name in the field, it's by no means your only option, and from our time with it so far, the Neato Botvac D7 Connected should have Roomba worried. Seriously worried.
Essentially an upgrade to its previous flagship robo-vac the Botvac Connected, the Botvac D7 has taken everything that we loved about the previous model and improved upon it. Well, almost everything, but we'll get to that.
Neato really sold the Connected using the fact that it 'intelligently' mapped out rooms and guided itself using an array of sensors, rather than just pinballing around a room until it was clean. With the D7, it's taken this a step further by giving you access to the maps it creates, and allowing you to draw 'no-go lines' that your D7 won't cross during a clean cycle.
Neato markets this as a feature for avoiding children's play areas and your pet's zone that it may be protective over. For us, it instantly fixed a massive problem that we have with robot vacuum cleaners generally; they try to eat cables and so often get stuck under desks and sofas chewing on power leads.
By creating a no-go zone that surrounded our desk, it meant the D7 didn't even go near the cables. It also meant that if we forgot to close the door of a room we didn't want it to go into, it's no problem as you just put a line across the door on the app and the D7 ignores the room.
These upgraded smarts don't come cheap; the Neato Botvac D7 Connected comes in at a hefty $799 (£799) and is available now in the US and UK. It will be coming to Australia in Q4 of 2018, and we're still waiting pricing.
This price tag puts it in direct competition with iRobot's Roomba 980, which is still industry-leading despite being a few years old at the time of writing.
With the D7, Neato clearly has tried to make the best robotic vacuum cleaner on the market, and while it's very impressive, the question is: is it good enough to take the crown?
Design
Neato has stuck with a design that looks like a capital 'D', a move away from the typical circular design of Roomba and Dyson's robot vacuum cleaners.
What this means is that there is a 10.9cm rotating brush underneath of the D7 at the front, allowing it to function much like a traditional vacuum cleaner head. From the top, the front unit has a solid plastic bumper, which allows it to lightly bump into any obstacles it may not have detected, creating a more complete picture of the space.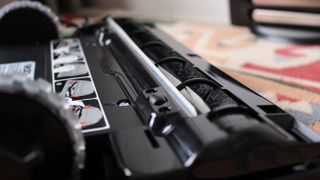 Covering the main section of the body is a very aesthetically pleasing brushed-metal plate. The larger panel lifts off easily to reveal the bin, made of see-through plastic so you can easily ascertain whether it needs emptying.
Like most robotic vacuum cleaners, the bin is smaller than a traditional vacuum cleaner, but is a decent size in comparison to its rivals. We do wish that the bin was bigger than the one on the Botvac Connected, and that it had a 'bin full' sensor, as it does end up overfilling and blocking the brush mechanism even when doing a single cycle in an already relatively clean (and not vast) apartment.
Alongside the main brush is a smaller brush that helps to kick up any dirt hiding in corners and in skirting boards by rotating horizontally. This brush is held in place using a magnet so it's easy to pop off and change when the plastic bristles get too warped. After the first cycle the bristles were already a little bent out of shape, so we imagine if you want it to stay at top functionality you'd have to replace this quite frequently.
Image 1 of 2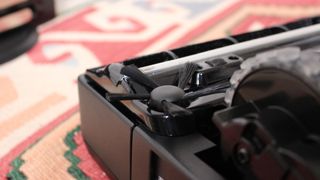 The spinning brush for getting dust out of corners
Image 2 of 2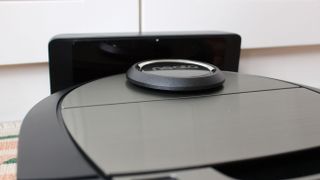 Neato's 'turret'
The one bone we have to pick with the D7 is the 'turret' on top. It's what houses the sensors that allow the vacuum to measure the room, but we found with the Botvac Connected that it frequently misjudged its own height and ended up getting the turret stuck on the underside of some furniture that it squeezed under.
While we've not had the same issue with the D7 yet, it is exactly the same height as its predecessor so we're waiting for the moment we get a 'I'm stuck, help me' notification.
There are LED indicator lights to show battery level, cleaning type, and wireless connectivity, but these are just for info at a glance, the real information is in the app. Thankfully, the app is brilliantly designed; it's clearly laid-out, and a pleasure to use.
Performance
Neato Botvac D7 offers an 'eco' mode and a 'turbo' mode. The former will be quieter, prolong the battery life of the D7, and provide a more delicate clean, the latter will provide a more thorough clean, but makes the vacuum operate at a slightly antisocial volume.
Of course, antisocial volume is nothing to be concerned about if the vacuuming is happening while you're not at home. This is one of the main draws of a robot vacuum cleaner; not having to be there when the cleaning happens. And it's something that Neato does very well.
With the introduction of My FloorPlan and No-Go Lines, Neato has taken its exemplary cleaning to the next level, allowing you to see exactly where the Botvac D7 cleaned, how long it took, and even set up zones that you don't want it to enter.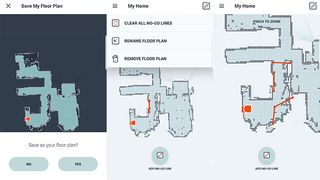 This instantly puts you back in control, a feature we didn't even realize we were missing until we had it. When you're vacuuming by hand, you can decide to leave an area alone, but with a robot vacuum cleaner, you have to set up temporary barriers.
Many robot vacuum cleaner manufacturers have strategies for dealing with this that include providing actual physical barriers you can use, but having a map on your phone that you can just draw a line across, it all becomes so much easier.
Another great feature is 'Manual' mode, that allows you to control the D7 like a remote control car using arrows on your phone's screen. So if you've just had a spillage and want to only clean that specific area, you can.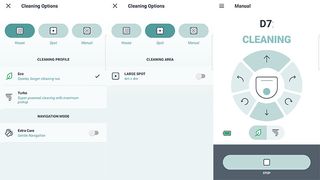 There's the option to do 'Spot clean' that will clean a 7'X7' area, starting from wherever you put the D7 down. Should you want to the more sophisticated map features, it will need to start at its charging station. Once the vacuum's done a full clean or is getting low on battery, it will trundle back to the docking station and put itself back on charge.
The Neato website claims the D7 can clean a 5000 sq ft area in a single cleaning cycle, with a battery that lasts up to 120 minutes. As it's incapable of scaling a flight of stairs, you'll need to have 5000 sq ft on a single floor to put this to the test, which we definitely don't as London residents.
Early verdict
We've only spent a short amount of time with the Neato Botvac D7, but we're impressed with what we've seen so far. It's definitely a premium priced robot vacuum cleaner, but for very good reason. We do take issue with the fact that the bin seems to overfill on a single cleaning cycle of our small flat, partly due to a small bin, partly due to how good it is at cleaning, which is an odd thing to criticise it for.
Even with a 0.7L bin and no sensor to let you know when the bin is full, we still think the Neato Botvac D7 is one of the best robot vacuum cleaners we've tested. It is much more pleasant to look at than Neato's previous offerings and its in-app features are fantastic.
[ad_2]

Source link
Content Disclaimer 
This Content is Generated from RSS Feeds, if your content is featured and you would like to be removed, please 
Contact Us
With your website address and name of site you wish to be removed from.
Note:
You can control what content is distributed in your RSS Feed by using your Website Editor.
Tech Shop Offers